ABOUT KICHIZA
The spirit of Japanese hospitality

Motenashi
Here we offer Kaiseki, or a traditional multi-course Japanese dinner,
where you can enjoy the season's best cuisine.
Our chefs put their heart into making the Japanese Haute Cuisine
from hand-picked ingredients.
And we serve our food in beautiful traditional dishes and bowls such as Aritayaki, Kyoyaki,and Wajimanuri which are famous throughout Japanese history, to present the class and grace in our hospitality.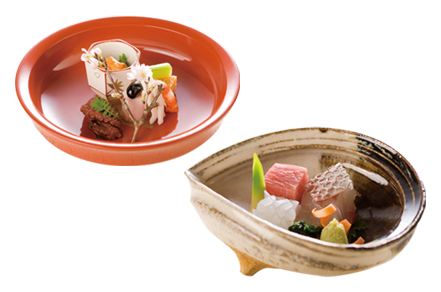 -Memories of Kioi-cho-
Ki

i Clan・

O

wari Clan・

I

i Clan──

The place where history is ingrained into the different
residence of Kii Tokugawa Shogunate, Owari Tokugawa Shogunate,
and Ii Clan right next to earch other is called Ki-O-I Cho.

Turning the historical background of these three clans
into a story, we then integrate the story into our design
of the three separate spaces for you, our honored guests,
to compare and choose.

From our brilliantly-designed entrance, through the winding
wandering corridors, and in the serene and peaceful ambience,
please relax and enjoy the four seasons of Japan in a comfortable
space we have endeavored to create.

A deep root in the world of Tea Ceremony

Kiike-Kii Clan
(A famous clan from the Edo Period)

Tatami Seating

The private Tatami Seating (with Pit Type Kotatsu) is made in the traditional architectural style of a refined Japanese residence called Sukiya. And there are altogether 6 rooms in this style. We recommend them for important gatherings.

A deep love for the pure Japanese culture

Owarike-Owari Clan
(A famous clan from the Edo Period)

Table Seating

We have also prepared a Japanese style quiet space of 3 private rooms with table seating, and 6 more tables. They are best suited for a small gathering.

A deep yearning for communication with foreign countries and new knowledge

Iike-Ii Clan
(A famous clan from the Edo Period)

Bar Seating

It is recommended not only for a relaxing moment before or after dinner, but also for enjoying the bar, for we offer an assortment of rare alcohols.

PAGE TOP